LATEST NEWS:
2/8/15
Track announcer Brad Stapleton has created a new digital driver information survey for the 2015 racing season. All information collected will be used by him in the PR department to help better promote you, as drivers, both on and off the race track. Click here to complete the survey.
---
1/27/15
2015 pit parking spots are now on sale. Click here to reserve a spot.
---
1/6/15
Rules for the 2015 racing season have been posted under the "rules" tab.
---
12/20/14
F.A.S.T 305 Sprints Added To 2015 Bob Reynolds Memorial
December 20, 2014
Any Ohio dirt race fan will tell you that the number one place to be on Independence Day Weekend is at Waynesfield Raceway Park in Waynesfield, Ohio for the highly talked about Bob Reynolds Memorial. Since the shows infancy, promoter Ron Hammons has continued to up the ante each and every year putting on the best race possible for the fans. For the 2015 edition of the famed race, Hammo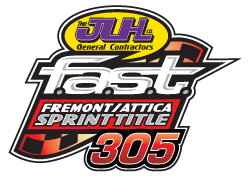 ns has done just that. In an announcement just before the holidays, Hammons revealed the addition of the Fremont/Attica Sprint Title (F.A.S.T) 305 Championship Series to the agenda of the Independence evening race. The race opens a new chapter for the F.A.S.T series, making history by being the first ever appearance off the shores of Lake Erie. The 305 drivers will be competing for a $1000 payday, $150 for making the competitive field, and $75 for each driver not making it into the A-main.
The addition of the F.A.S.T series to the Bob Reynolds Memorial event on July 4th was just half of the announcements promoter Ron Hammons made Friday afternoon. The UMP Modifieds were announced to be returning for the fourth edition of the famed race running for a $3000 cash payday. The UMP Modifieds also have a chance to pick up an extra $1,000 to win at Limaland Motorsports Park the night before and a provisional for the Bob Reynolds event. Also returning to the event is the ever-popular NRA 360 Sprints for a $7,500 to win payday. Again, the winner in the NRA's on Friday night will also pick up a provisional for the Bob Reynolds event. New to the event this year will be group qualifying for all events.
The fourth running of the Bob Reynolds Memorial is scheduled for Saturday, July 4th at Waynesfield Raceway Park in Waynesfield, Ohio. Details on the event will be available online at www.waynesfieldracewaypark.net, Waynesfield Raceway Park on Facebook, @OfficialWRP on Twitter, and on the F.A.S.T series website, www.fastondirt.com.
---
11/2/14
Banquet Presentation
---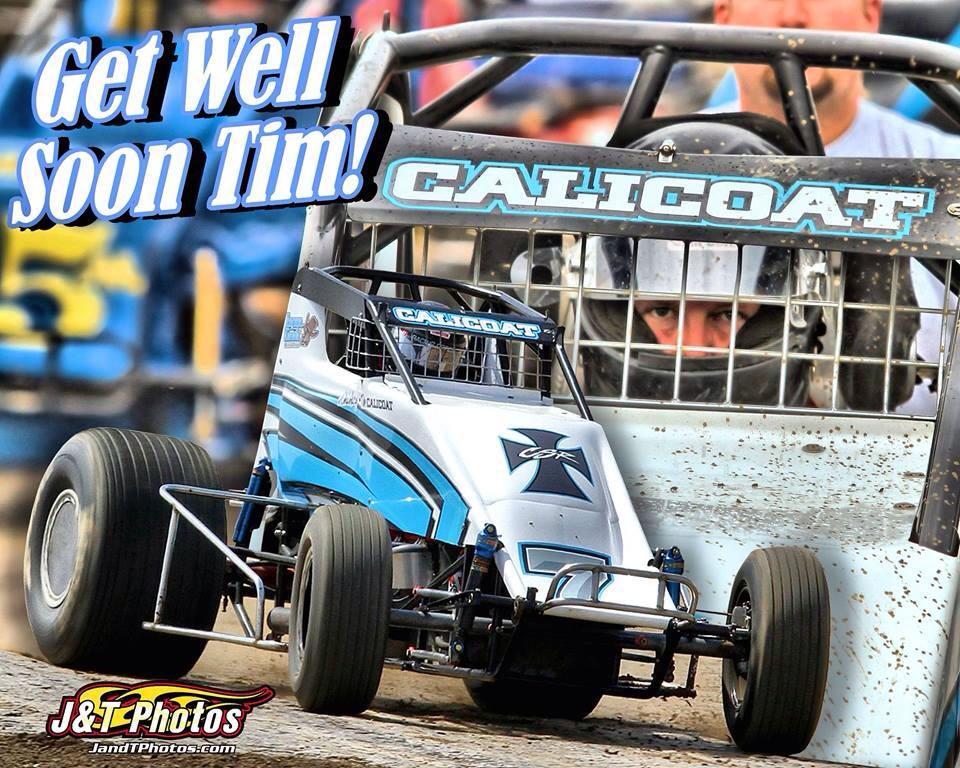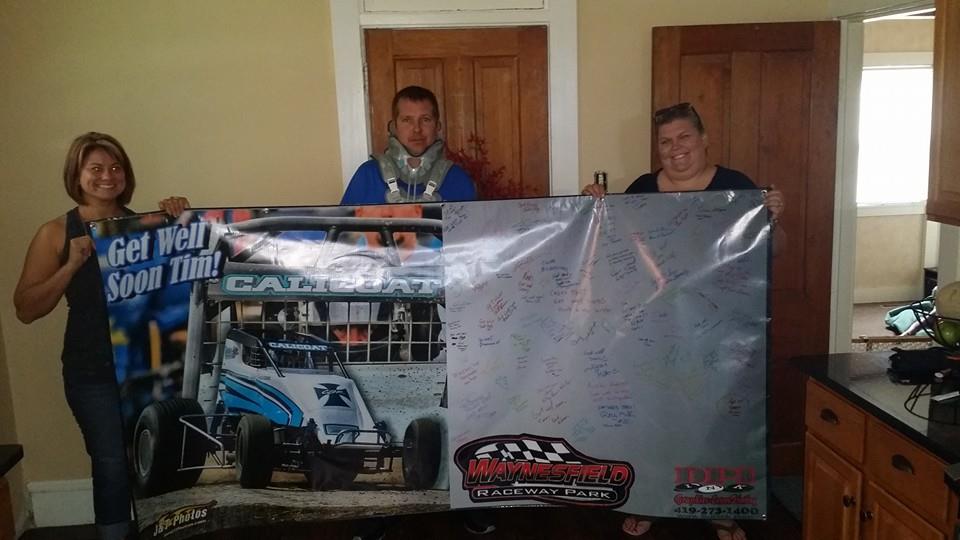 Big thank you to everyone who donated to support Tim Calicoat Saturday night. Jamie Sizemore reports that $1729.00 was presented to the Calicoat family. A banner covered in signatures from drivers, fans, and WRP staff was also presented. Tim and his wife Leslie were speechless and would like to thank everyone for their generosity.
---

For Immediate Release:

Attention Buckeye Machine Non Wing sprint car participants, we have decided to make a change regarding our tire rules for the 2014 season. Starting June 1st, 2014 all sprint cars will be required to run a Hoosier Medium 105/16 right rear tire only. The other three corners of the car will remain Hoosier (any compound). Until June 1st you can continue to run any compound Hoosier on all four corners. We feel that not only will this save the racer $40 per RR tire it will also put everyone on the same tire.

As always, we thank you for your support and look forward to another great season of racing in this class.

Thanks,
Danny Kelly
Race Director
---
---

New to WRP this season we will be creating and using an email list for notifications, results, news and press releases. If you want to most up to date info for WRP make sure to sign up for this email link below. This will allow fans, drivers, media, etc., to add, delete, and update their email addresses.
https://docs.google.com/forms/d/1Js0-Q0cRyc76fpSVIJ_xkGrLPyZE-IvpksEiu9EY01o/viewform


---
New in 2014! We have listened to your suggestions and in 2014 we will be honoring Rookie of the Year in all divisions. In order to qualify for Rookie of the Year honors you must not have raced in the division at our facility or any other facility in the past. We are wanting to honor new drivers to the divisions as we have seen a huge increase in drivers moving up or starting out in our divisions. In order to be eligible there will be a form on the "Rules" tab of our website that you need to print off and fill out. You will need to hand this in the first night you race with your drivers profile sheet. We hope to see many new faces competing in all 5 regular divisions.
Thanks,
Danny Kelly
---
Reserved Parking for 2104 is now open to reservations. Please see the news section for instructions. To see the current pit parking map click the "read more" button below.

---
The 2014 Schedule is now posted on our Schedule tab
---
Transponders will be used in Non Wing Sprints, Modifieds, Mini Sprints and Trucks in 2014. We will be using Westhold (model: 2180-001) rechargeable units. (they are yellow in color). They will be available for rent at the track for $10 per car or you can purchase your own and report your serial number at pill draw. Specifications of where to mount the transponders will be written in the general rules.

________________________________________________________________________________


---
Last Updated ( Sunday, 08 February 2015 )
Read more...