NEXT EVENT:
Season Opener

FAST 410 Sprints
NRA Sprint Invader 360 Sprints

Schedule of Events:
Pits: 1:00PM
Grandstands: 3:00PM
Hotlaps: 4:00PM
Racing: 5:00PM

Ticket Prices:
Adults (11 & Up): $15
Seniors (62 & Up): $13
10 & Under: FREE
Pit Pass: $35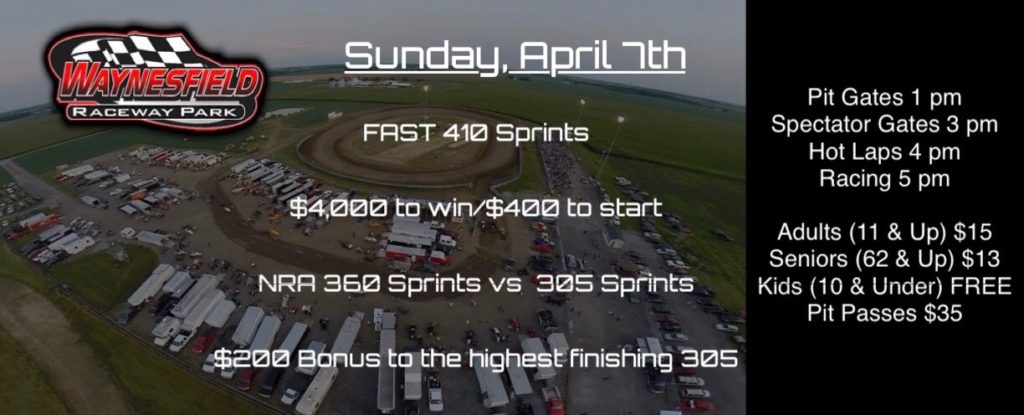 ---
WAYNESFIELD, OH. - The first of  several big sprint car events at Waynesfield Raceway Park will be held Sunday, April 7 with the FAST 410 Sprints Series battling for $4,000 to win. It will be all sprint cars as the National Racing Alliance (NRA) Sprint Invader 360 sprints will take ...
Read More
---
Reminder to all teams: One way radios(Raceceiver) are REQUIRED for competition in all classes at Waynesfield Raceway Park. Anyone caught not using a Raceceiver radio may face disciplinary action up to and including disqualification, suspension and/or loss of all points and prize money.
We do have a limited number of radios for rent at $25, but we strongly recommend that each team purchase one.
---
COMPACT DRIVERS: SCORING CHANGES
In an effort to streamline scoring efforts and increase efficiency of race programs, all Compacts will be required to run transponder scoring devices beginning this Saturday, April 28th. Transponders can be rented for $10 the night of the event or purchased from Westhold for roughly $200. Transponders should be mounted on the lower right rear control arm with the silver logo facing towards the track surface. The transponder should be secured with zip ties and duct tape. Any questions regarding this change can be directed to the track office at waynesfieldracewaypark@gmail.com or to a track official Saturday.
---
UMP ANNOUNCES 2018 DRIVER PROTECTION REQUIREMENTS
UMP 2018 Driver Protection Requirements
---