2018 PIT PARKING SPOTS
UPDATED (4/18/18): All spots not highlighted are now available on a first come, first serve basis.
It is time to reserve your 2018 pit parking spots. We will allow drivers with reserved spots from 2017 until February 19th to renew their reservation. After February 19th spots will be first come first serve until April 9th when all reserved parking closes. The cost of all pit stalls this season is $100. Here are some guidelines for this seasons reserved parking:
The reserved spots will NOT be saved on: The All Star Races (May 27th, June 18th ),The Sprint Sizzler race (July 3rd), The Jack Hewitt Classic (Aug. 4th).
If the car that has reserved that spot is unable to attend that night then the spot belongs to WRP. We are not going to "hold" it for another driver unless you call us in advance to let us know.
Reserved spots will be held until 5:30pm unless you call ahead and let us know you are on your way.
After February 19th we will post the updated map. Up until that point you can purchase a spot that does not have a name on it. If one of last years reserved spots are not filled again then you may choose to move into one of those spots.
In order to secure a spot please mail a check to:
Greg & Tami Shobe
15595 Waynesfield Rd.
Waynesfield, Ohio  45896
BE SURE TO INCLUDE:
Your Name
Driver Name (If Different)
Car Number & Class
Reserved Spot Number (See Map For Reference)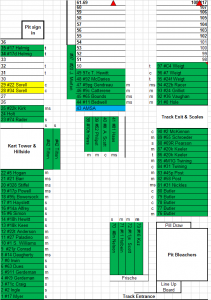 Updated: 4/18/18
---
2018 ROOKIE OF THE YEAR FORM
Please complete the below form to be eligible for Rookie of the Year honors.
---
2018 DRIVER TAX/INFORMATION FORM
 All competitors are required to complete the below form before racing in 2018.
To help elevate long lines at registration, we ask that drivers print and complete the form prior to arriving at the pill draw line.
---
Non Wing
 
UMP Modifieds
 
Mini Sprints
 
Trucks
 
Compacts
1
1500
1
800
1
500
1
300
1
200
2
725
2
425
2
290
2
175
2
125
3
525
3
325
3
170
3
150
3
100
4
400
4
275
4
130
4
125
4
90
5
300
5
225
5
100
5
100
5
80
6
290
6
200
6
95
6
90
6
75
7
280
7
170
7
90
7
85
7
70
8
275
8
150
8
85
8
80
8
65
9
270
9
140
9
80
9
75
9
60
10
265
10
125
10
80
10
70
10
55
11
260
11
120
11
75
11
65
11
50
12
255
12
115
12
70
12
60
12
45
13
250
13
110
13
70
13
60
13
40
14
245
14
100
14
70
14
60
14
40
15
240
15
100
15
70
15
60
15
40
16
235
16
100
16
70
16
60
16
40
17
225
17
100
17
70
17
60
17
40
18
225
18
100
18
70
18
60
18
40
19
225
19
100
19
70
19
60
19
40
20
225
20
100
20
70
20
60
20
40
*THESE PAYOUTS ARE FOR REGULAR SHOWS ONLY – AMOUNTS MAY CHANGE FOR SPECIAL SHOWS. PURSES MAY INCREASE BASED UPON ADDITIONAL SPONSORSHIP, AND/OR INCREASED ATTENDANCE*